Long Range Plan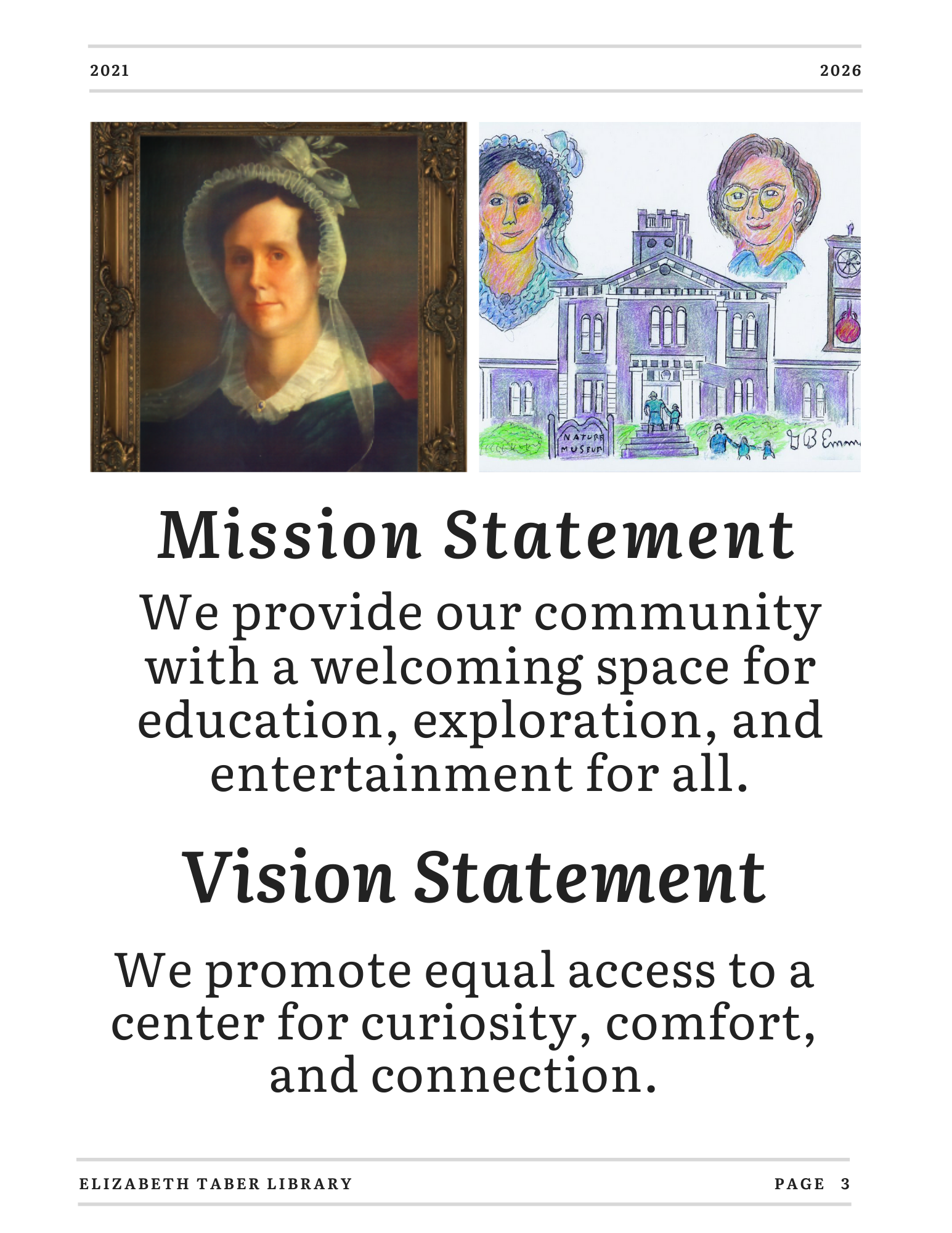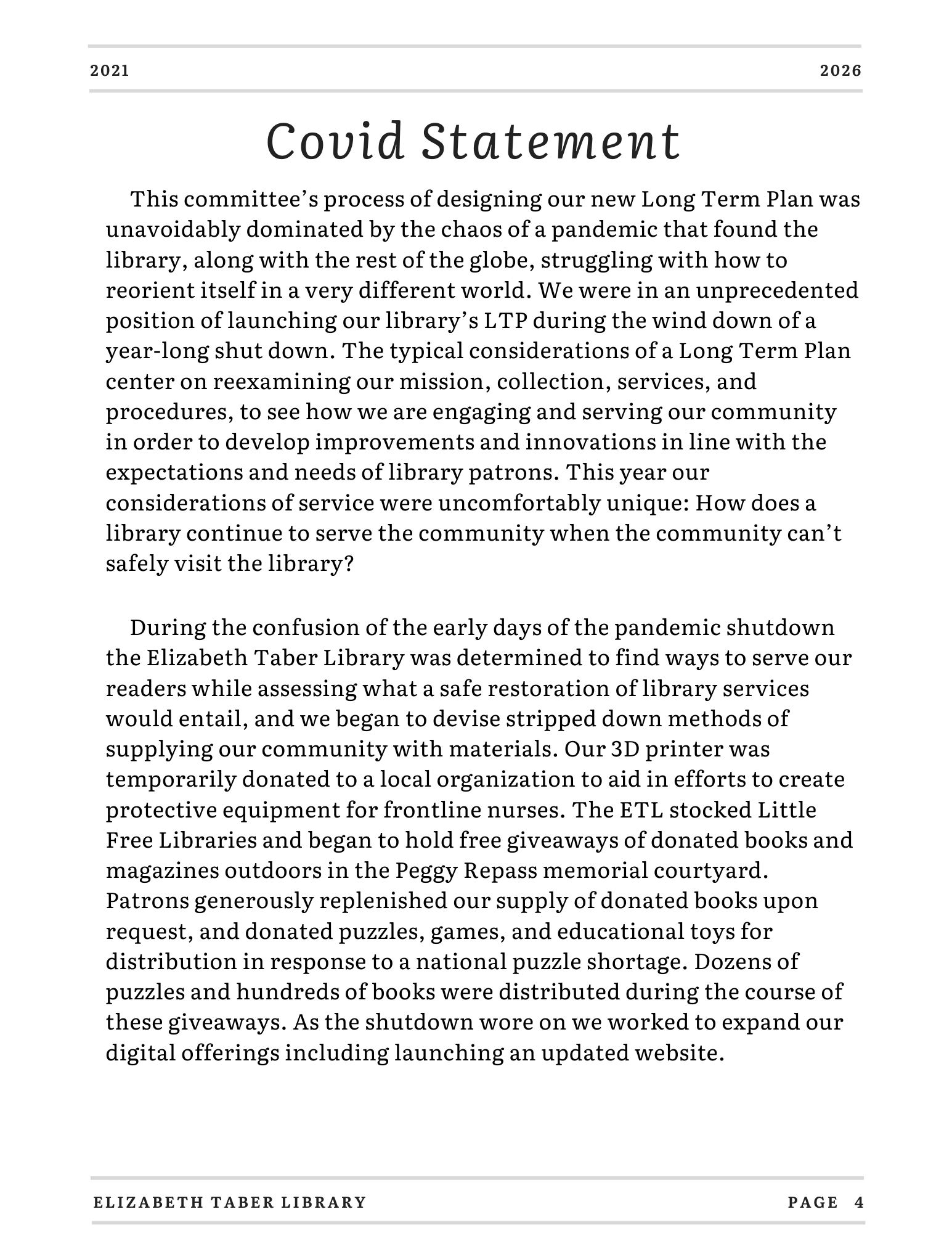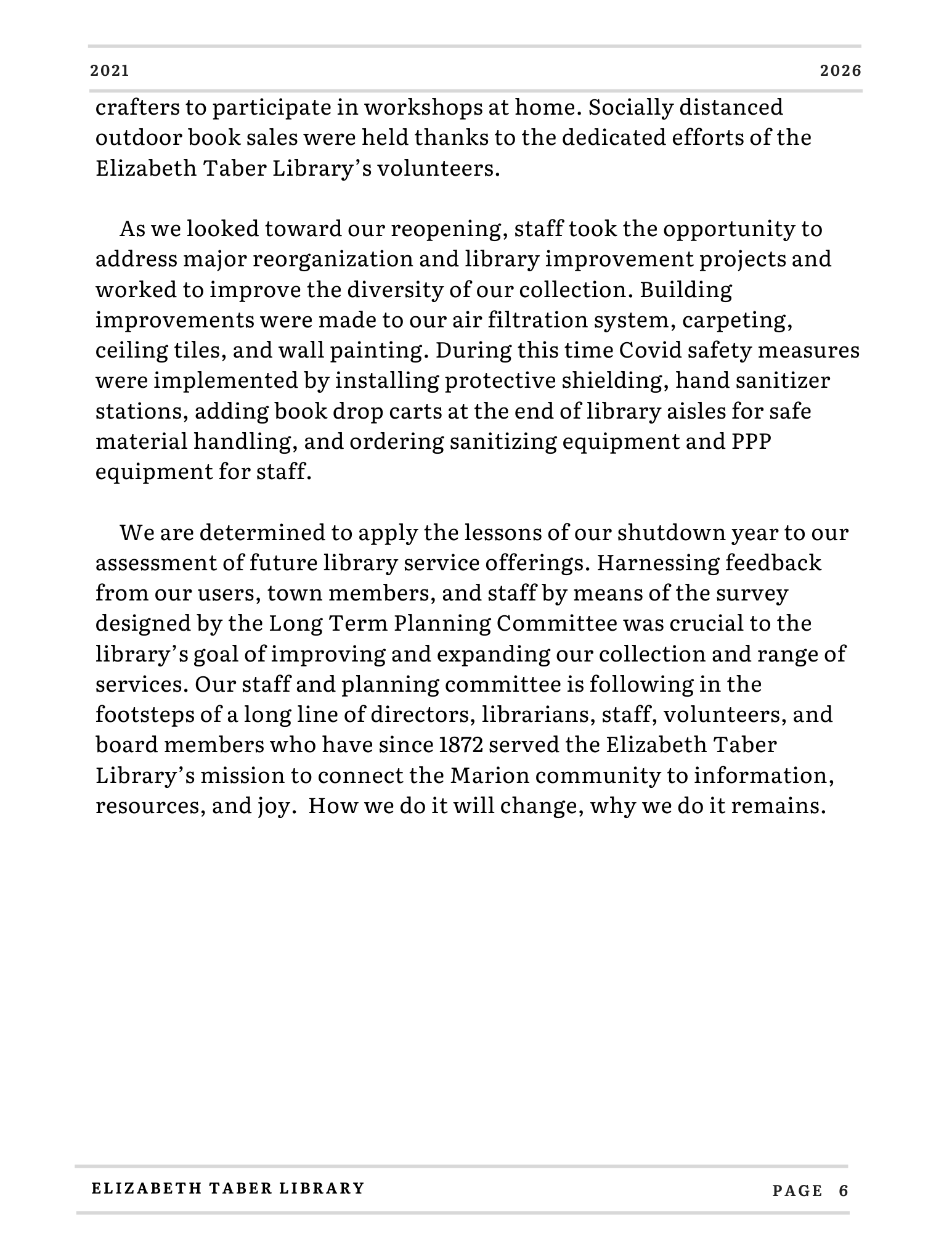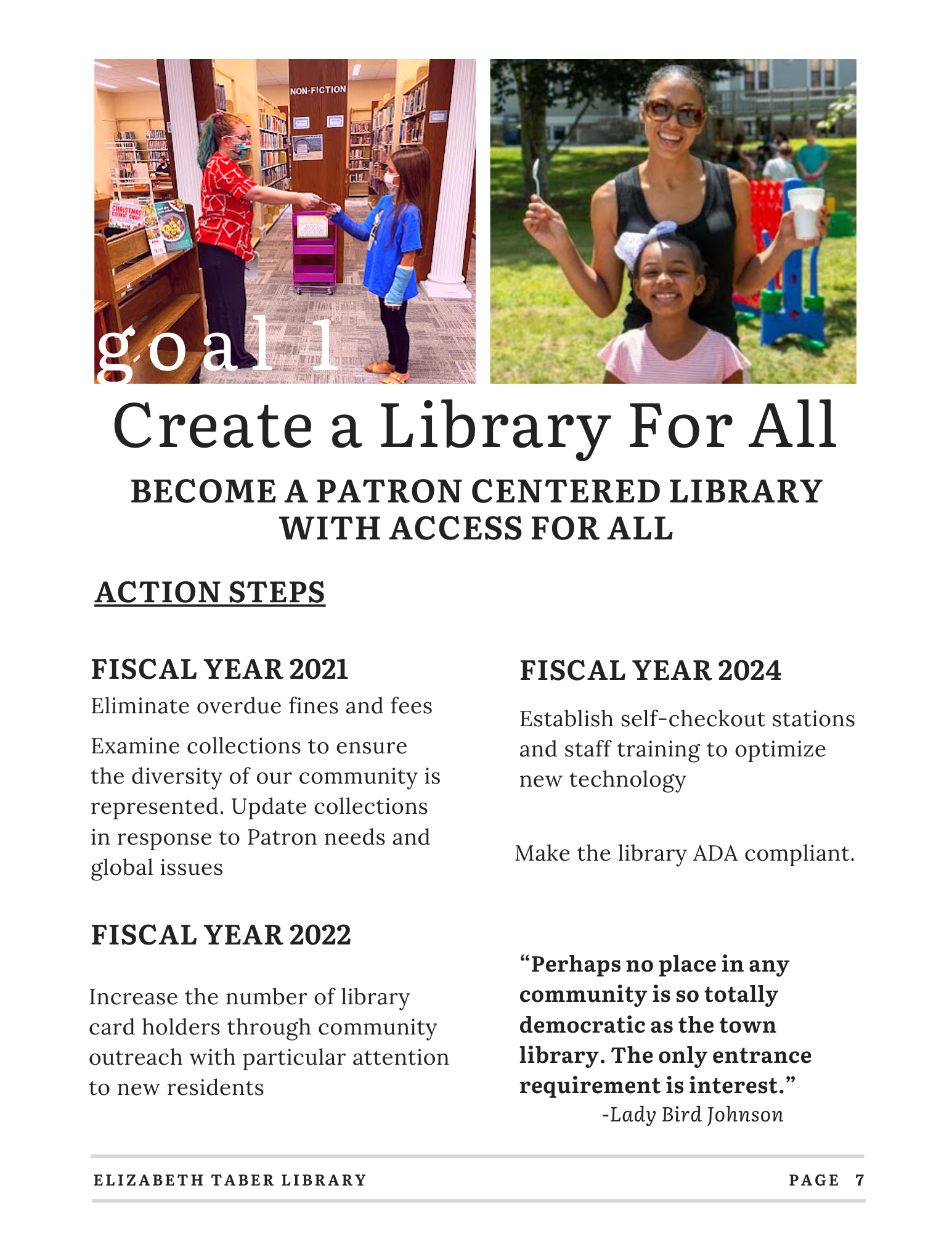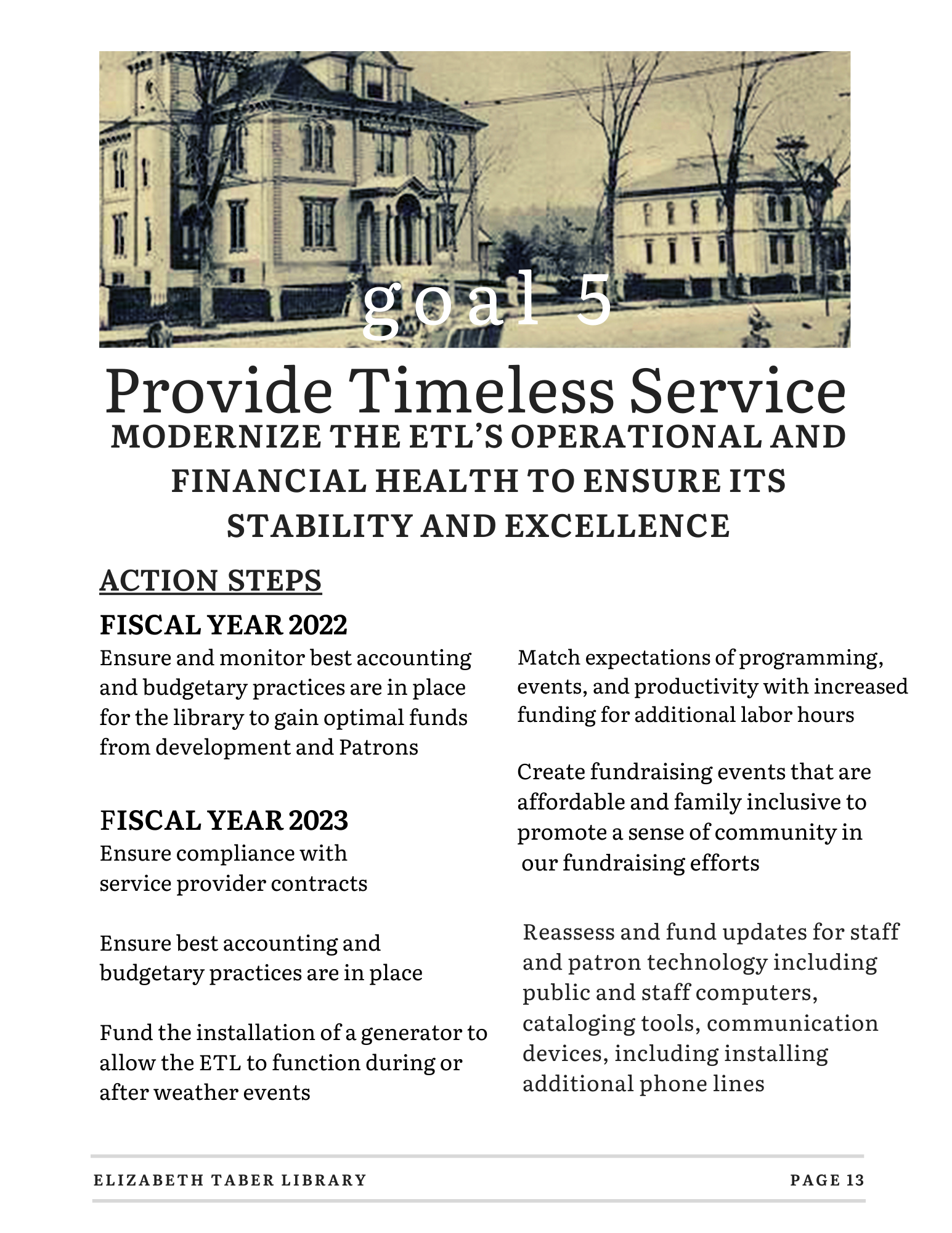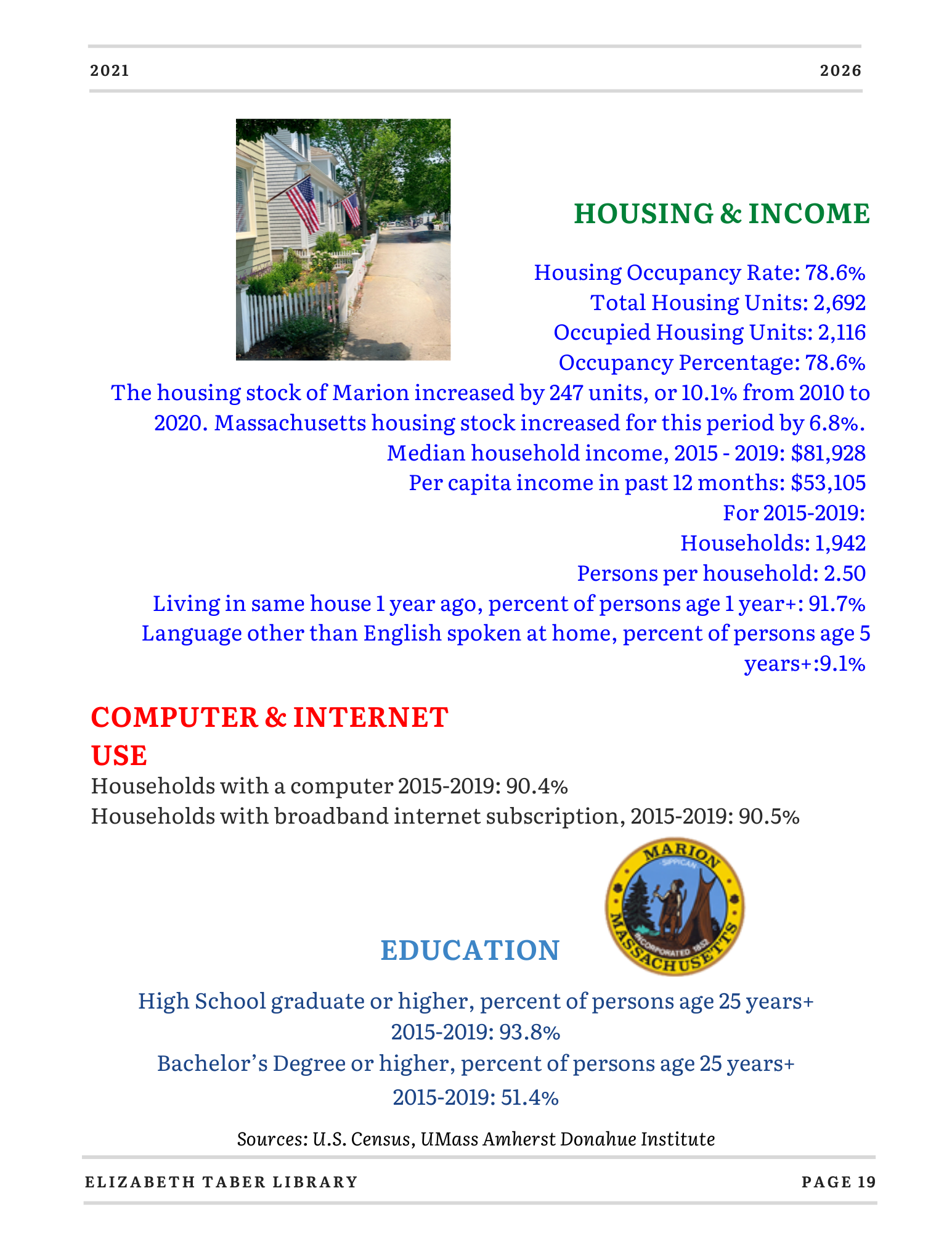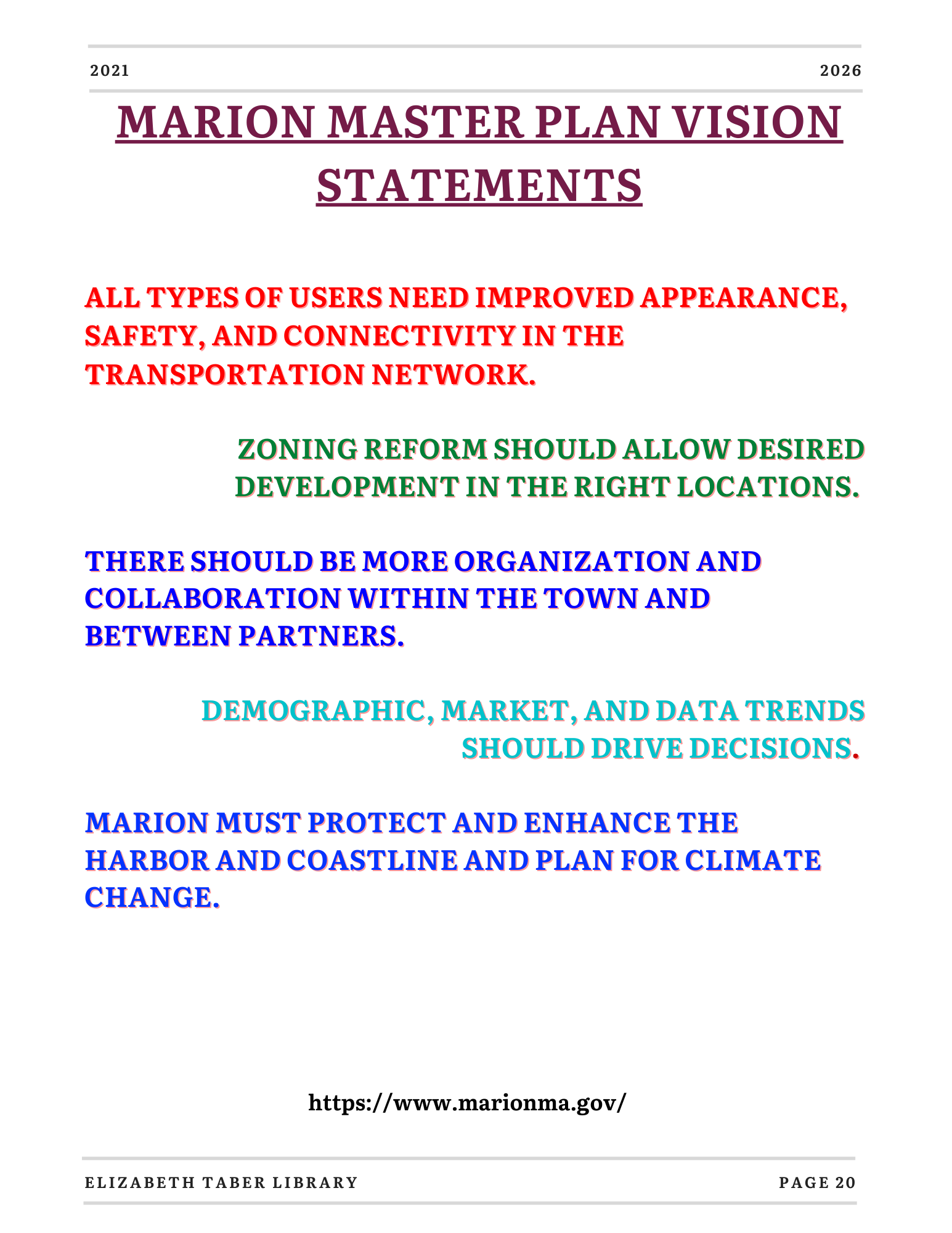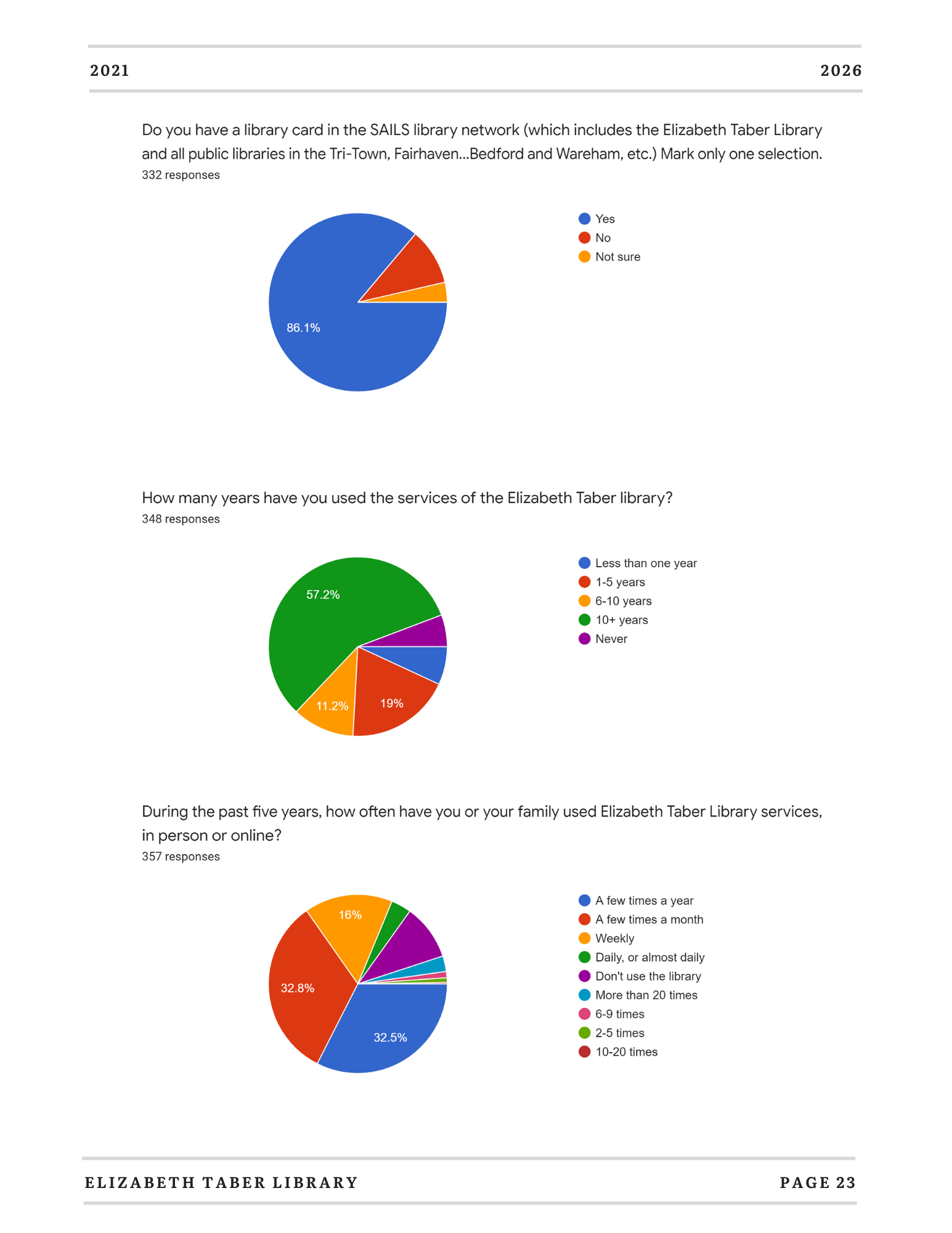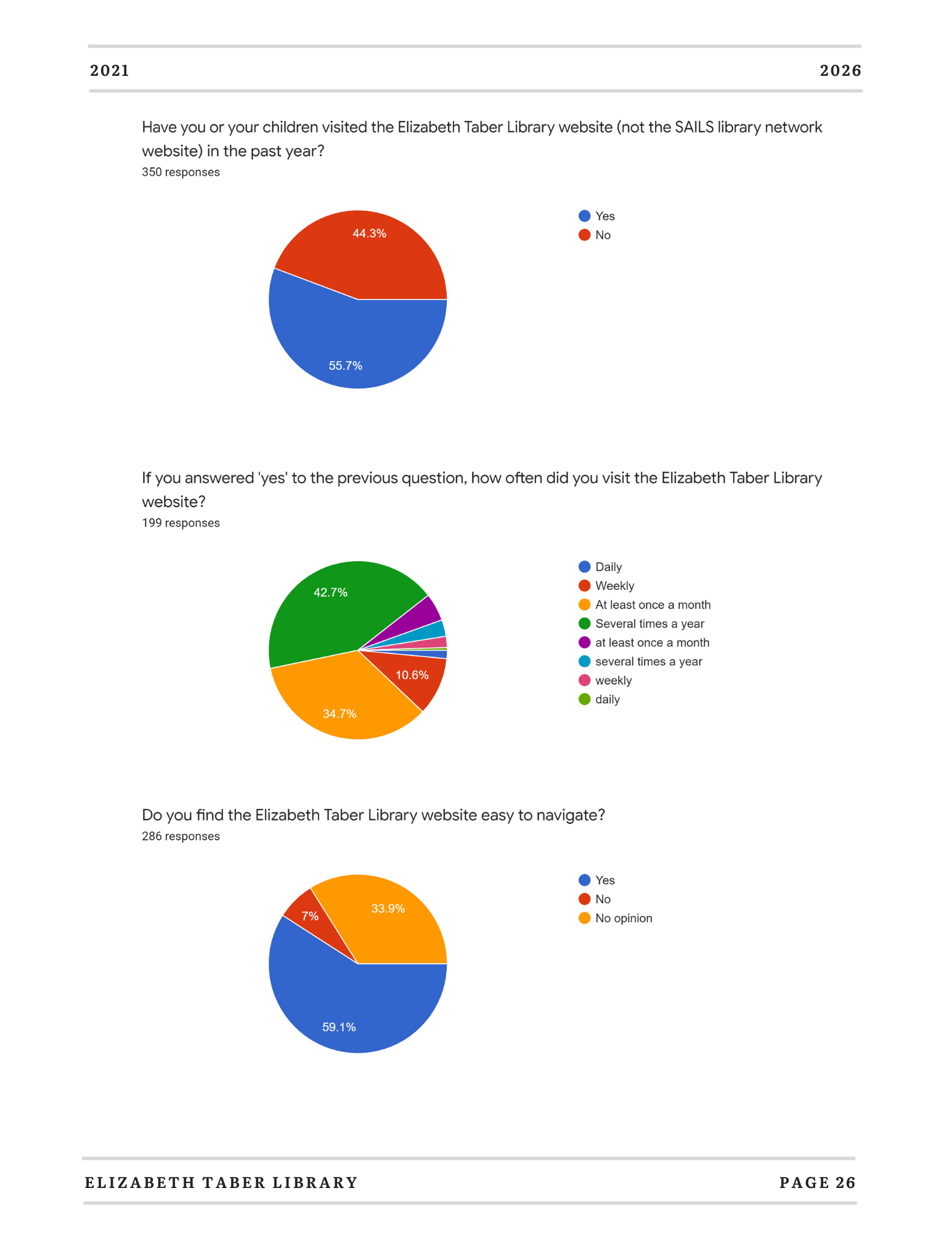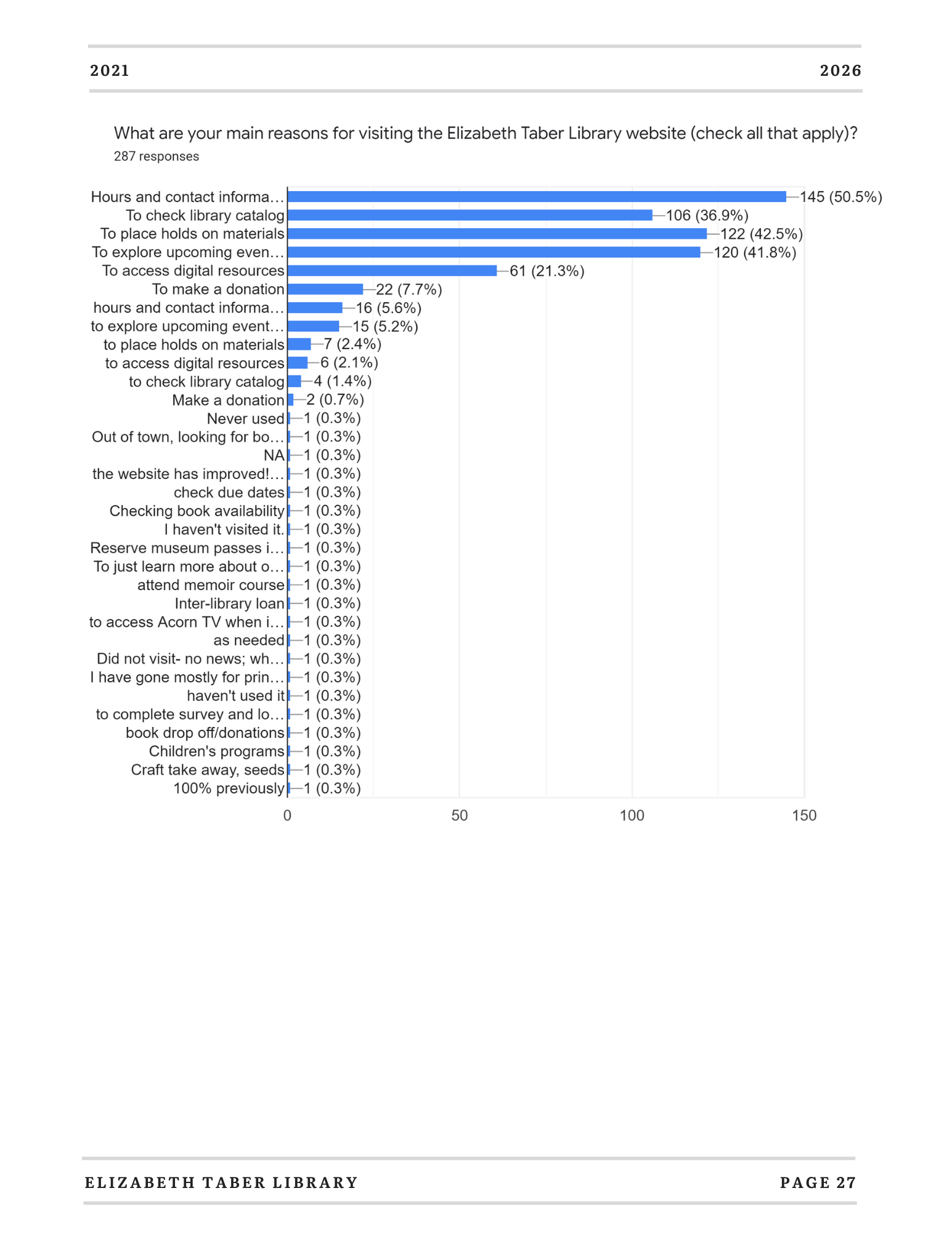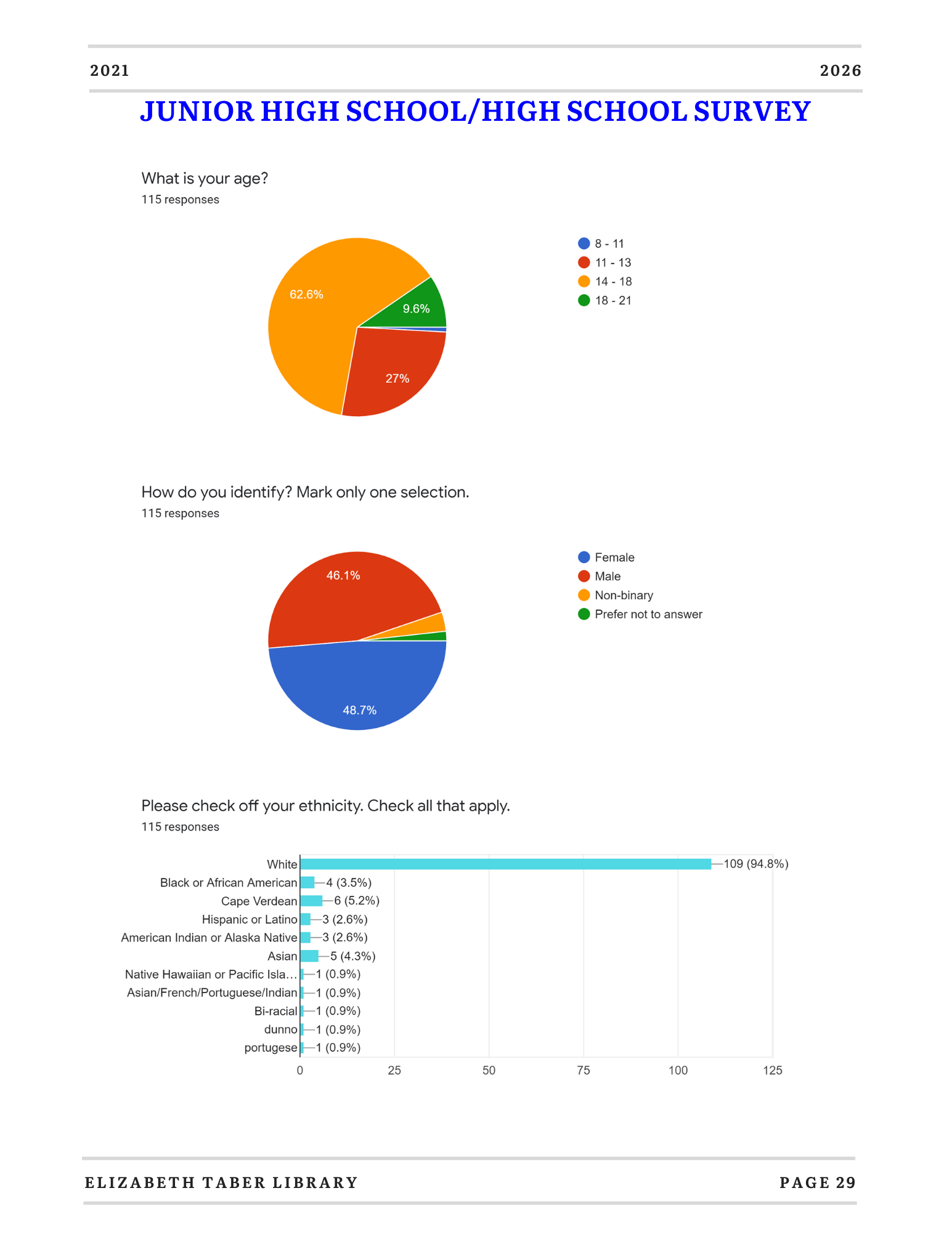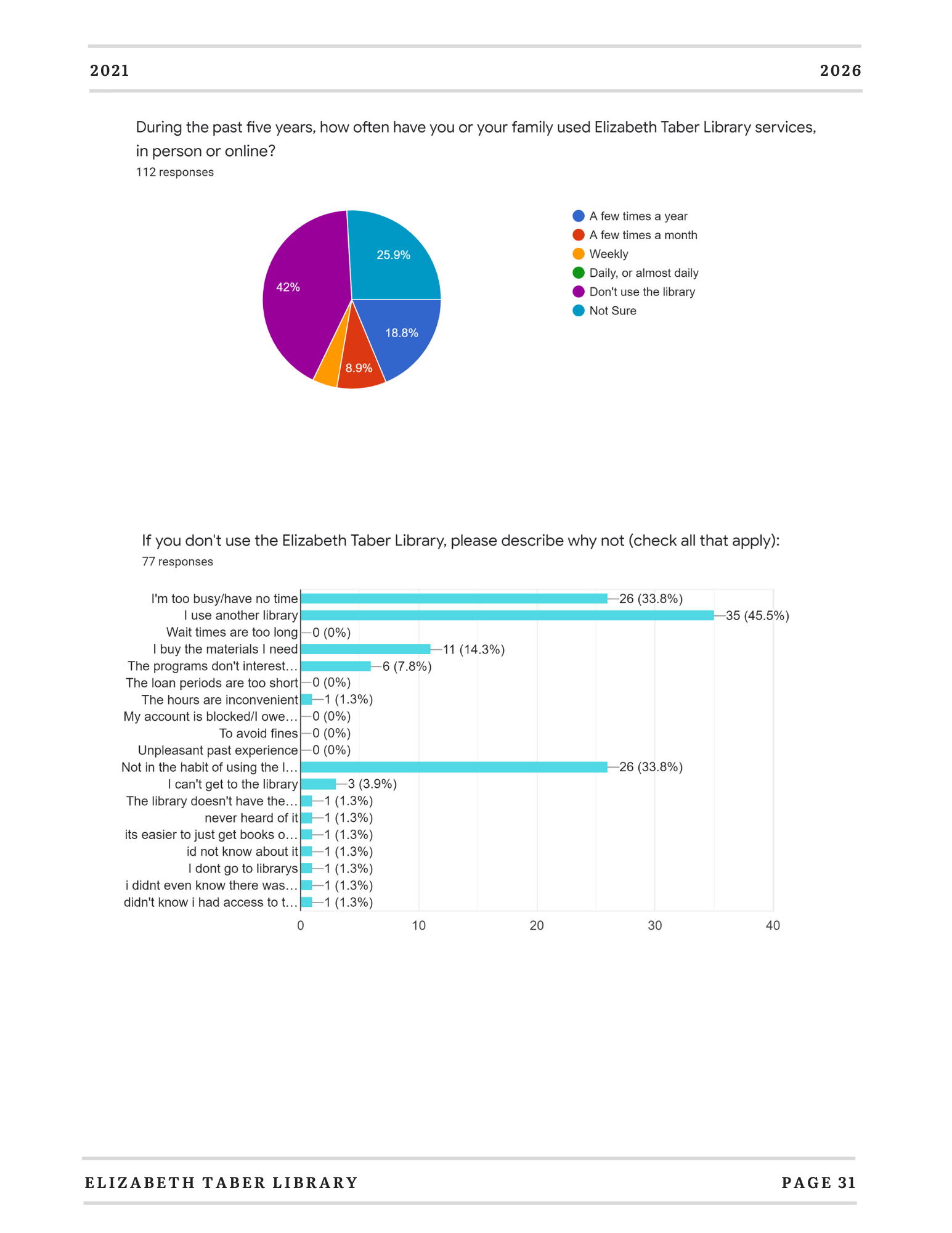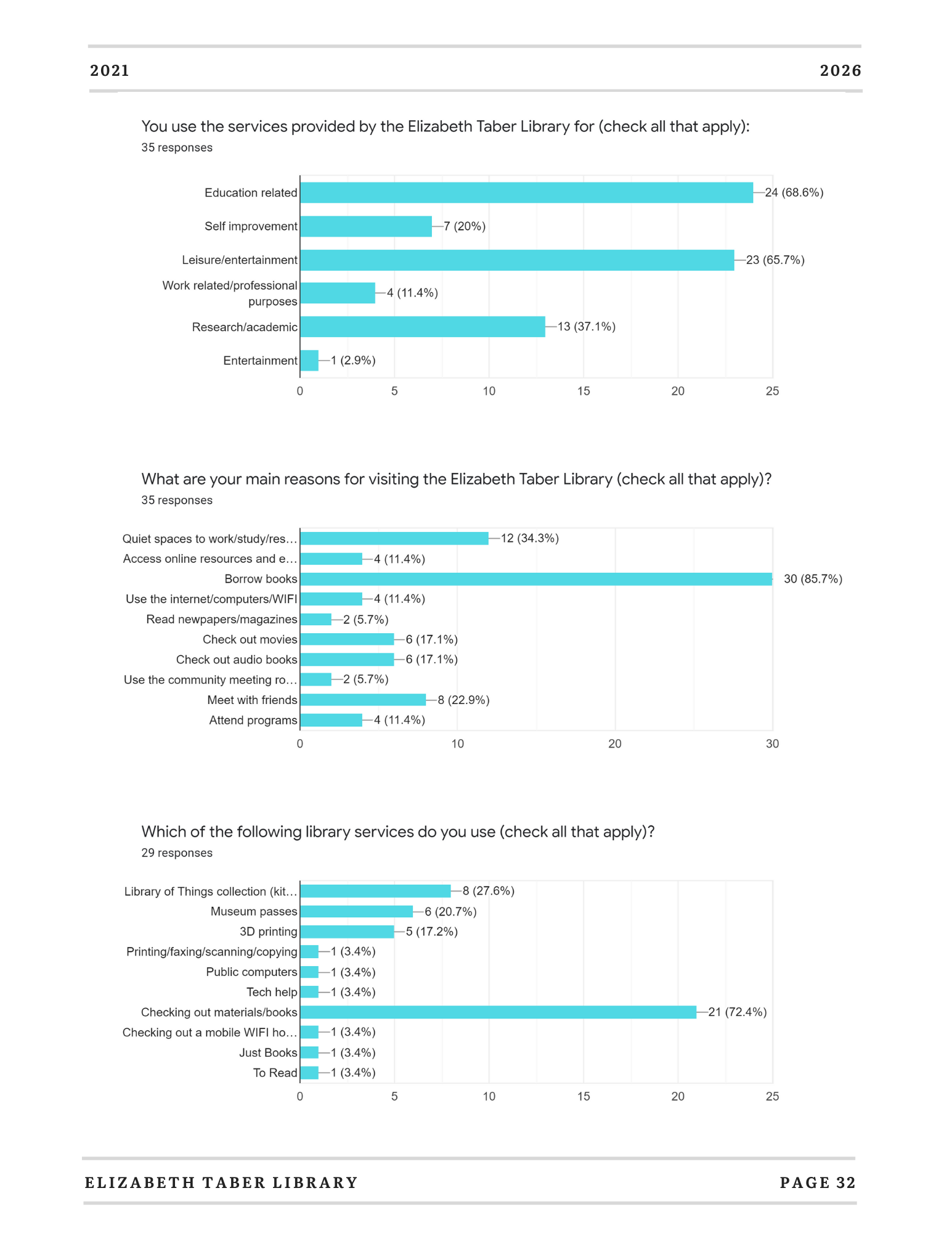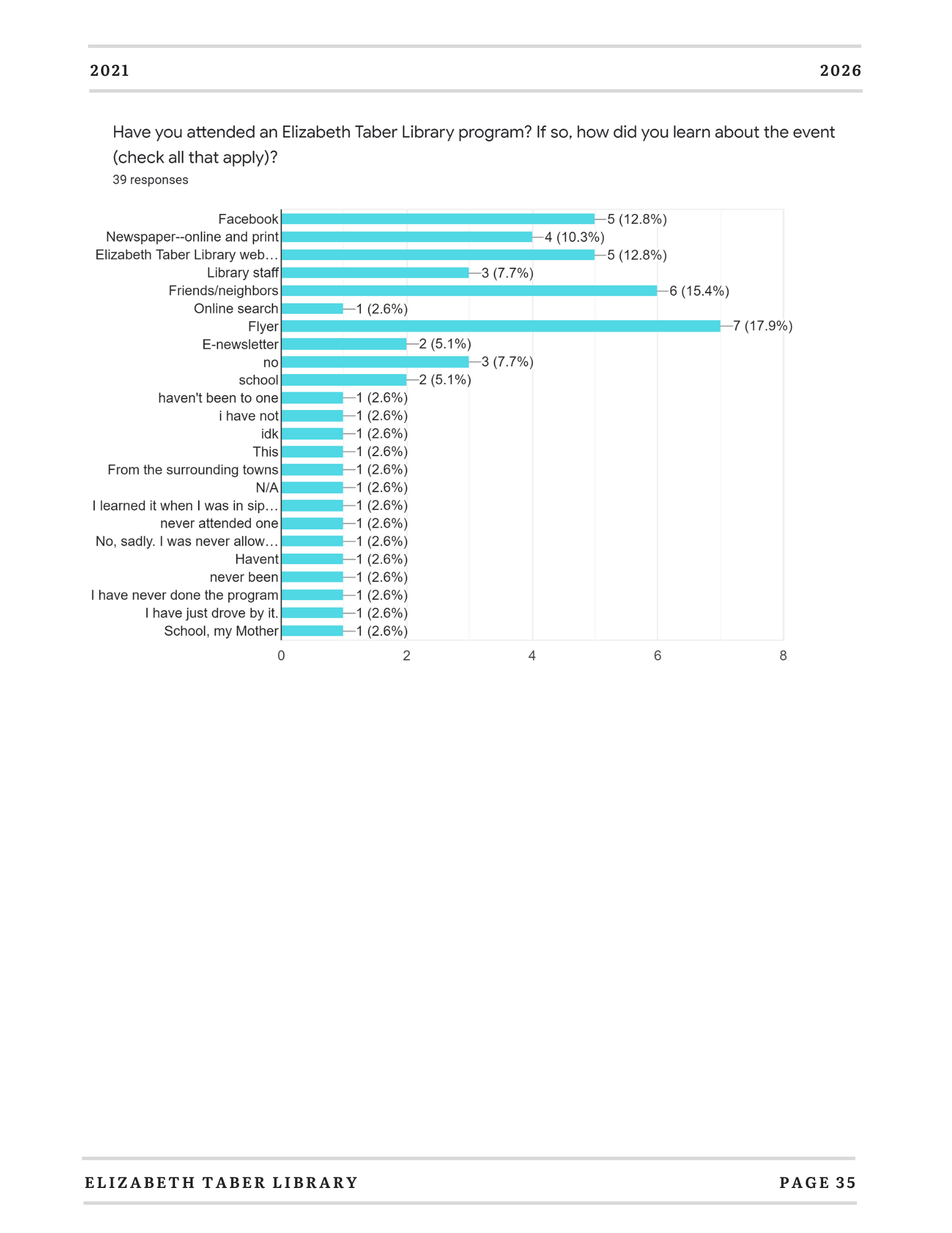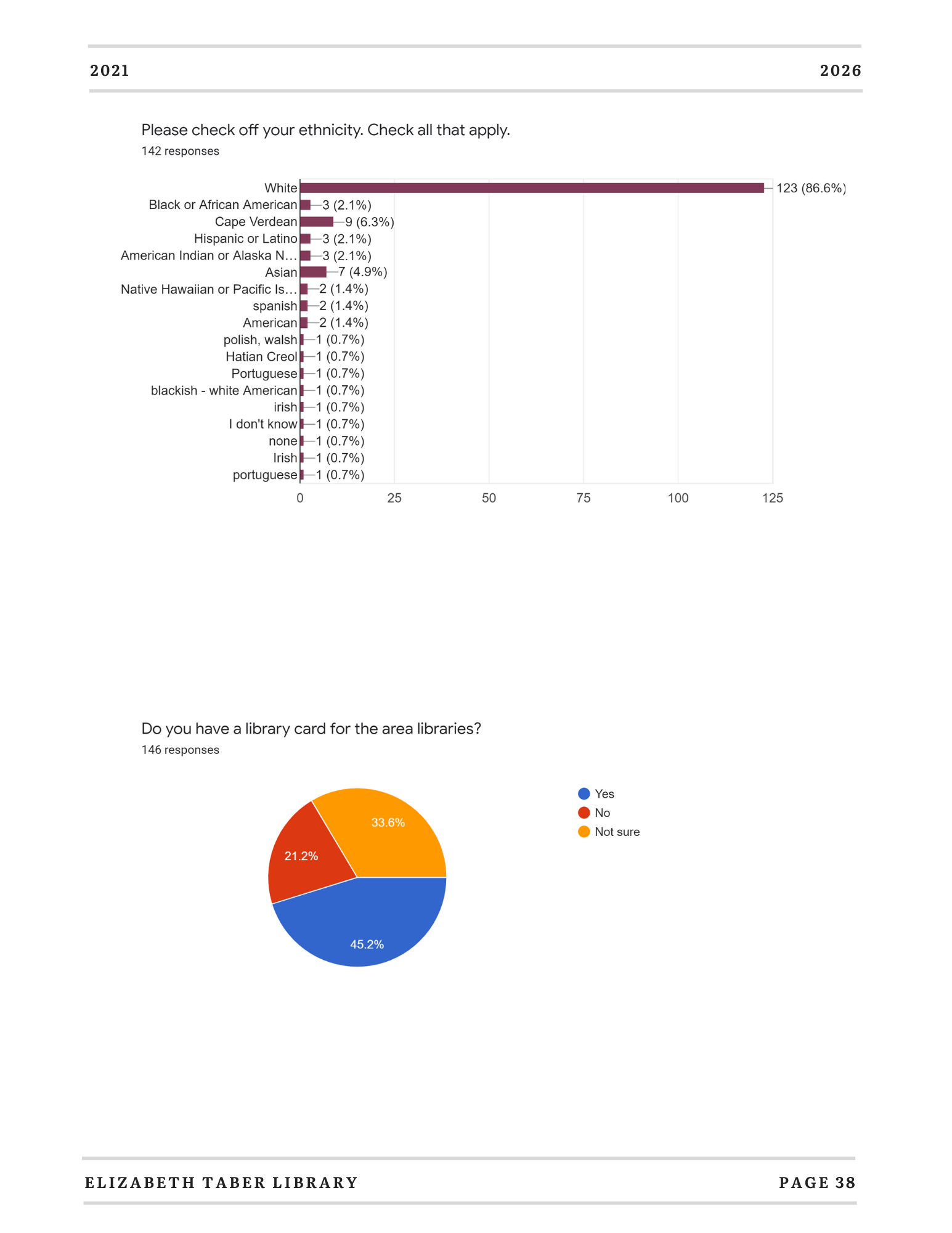 Mission Statement:
The Elizabeth Taber Library in Marion, Massachusetts is committed to being a welcoming, vibrant center for all ages that inspires lifelong learning, access to information, and programs that enrich the community.
Vision:
The Elizabeth Taber Library will continue to be a focal point of the community promoting and fostering the joy of reading for patrons of every age. The exceptional staff is dedicated to making everyone feel welcome to gather, socialize and enjoy all that the library has to offer.
Community Background:
Marion is a beautiful seaside town located on the south coast of Massachusetts, at the northern end of Buzzard's Bay. Marion residents take great pride in the small-town character, as well as it's harbor, exquisite waterfront and historical buildings. The town was first settled in 1679, along with Mattapoisett, as part of Rochester. When formed, the town was called Sippican. These three entities developed different interests and economies; Marion's largely related to sea trades and eventually sought independence from one another. In 1852, the name of the town was changed to Marion in honor of General Francis Marion, the Revolutionary War hero from South Carolina.
Marion is primarily a residential town with many of the working residents commuting to Boston, New Bedford, Providence, and Cape Cod. There are some small businesses in the community, as well as larger enterprises, but the tax base is largely dependent on property values. The population year-round is 4900, increasing to 7000 plus in the summer months. Sailing, tennis and golf are the resident's sports of choice.
Tabor Academy, a co-ed preparatory school, occupies a large portion of the waterfront. Elizabeth Taber, who also gave funds to build the library in 1872, gave the land.
Library Background:
Elizabeth Pitcher Taber, the Library's benefactor, has often been referred to as the fairy Godmother of Marion. As a childless widow who had made many shrewd investments in railroads, she chose to share her wealth with her home town. Among the organizations which benefited from her charitable giving was the Library. In 1872, she gave $4,000 for a Victorian edifice to be built for the Elizabeth Taber Library and the Marion Natural History Museum. She also graciously gave the library a $15,000 endowment. In the 1980's, two wings were added to the library to provide much needed stack space. Presently, it is evident that the library is again in need of another expansion to accommodate programming, technology needs, additional stacks, a quiet space and ADA accessibility.
Governance:
The Elizabeth Taber Library is one of the last libraries in Massachusetts to be a private association and only partially funded by the Town of Marion. The rest of the operating budget is raised by the Marion Library Association (MLA), with assistance from the Library Director, through fundraising initiatives, donations, gifts and grants. The MLA Board of Trustees consists of 12 appointed community members and they are responsible for hiring the Library Director, overseeing the finances and fundraising, and adopting policies and procedures.
Staffing:
The Library Director is the only full time employee (35 hours/week) at the Elizabeth Taber Library. The rest of the staff includes: a children's librarian (30 hours/week), and four part-time library assistants with hours ranging from 6-19 hours per week.
Methodology:
A subcommittee was formed from the Board of Trustees to assist the Library Director in creating a Long Range Plan for 2016-2021. In early September, printed surveys were left out around the library for patrons to anonymously fill out, and an electronic survey was included in the October, November and December e-newsletters. These surveys asked patrons brief questions on how they used the library, what services were most important to them, and what services/programs they would like to see at the Elizabeth Taber Library. The Library Director also held two sessions at the library for community members to drop in and voice their opinions and suggestions.
In writing this Long Range Plan, the Library Director researched and compared various other Long Range Plans for public libraries online and relied on the book, "Strategic Planning for Results," by Sandra S. Nelson for guidance and format.
After the draft of the Long Range Plan was completed, a focus group (through email) was formed to gauge the satisfaction of the document and its new goals.
Results:
We received feedback from 30 paper surveys and 21 electronic surveys. Overall, patrons feel that the Elizabeth Taber Library is very important to them and their families. It also seems that most are satisfied with how the library is run and the services offered. Some responses to this question were:
"It is fantastic. Never been better."
"Stay friendly. You're the best."
"It has already improved. Friendly atmosphere and helpful too!"
Those that did comment or offer suggestions mentioned:
More DVDs and audio books
STEM and Renewable Energy materials
Parking
Love the Sunday hours
Better facilities/Library expansion
After school programs for children
Regrettably, some of the comments were about services/programs that we already offer. The library needs to do a better job of promoting/marketing all that we do offer to the Marion community.
Goals:
1)To provide easy access to library resources and services in a setting that is user-friendly and welcoming to all:
Train/refresh all staff members of our library resources and services, so that they may better assist patrons.
Examine the library collection and access to resources to ensure that there is an ease of access and identify areas that are lacking.
Schedule technology trainings in order to educate the public on all the free services the library has to offer.
Reiterate the expectation to staff that excellent customer service is required so that patrons' experiences of the library are friendly and welcoming.
2) To offer programming that enriches and educates patrons of all ages in the community:
Enhance collaboration with community partners such as Sippican School, Council on Aging, Tabor Academy, and other area libraries.
Continue to seek new, creative programming ideas by researching what other libraries and non-profit organizations are doing.
Review and improve upon existing programming for adults and children.
Implement more teen and after school programs.
Explore patron suggestions on programming ideas.
3) To promote community awareness of library services and continue to strengthen our partnerships in the area:
Continue to update and enhance the Elizabeth Taber Library website with programs and services.
Routinely send E-newsletters to Marion Library patrons.
Organize workshops highlighting the free services that the Elizabeth Taber Library offers.
Utilize "word of mouth" publicity by speaking with patrons and at community meetings about library services.
Post flyers around the library and town and write a press release to the local papers.
4) To stay abreast of changing technologies and online resources to offer the public:
Continue to network with other librarians to discuss new technology and services.
Attend webinars and professional development workshops for staff and director to expand our knowledge on new services and online resources.
Research cutting edge library services, see what works successfully for other libraries and implement them at the Elizabeth Taber Library when feasible.
To maintain current, and develop new funding resources to establish greater financial stability for the Library.
Maintain the individual and corporate supporters appeal, and continue to strive for additional donations.
Work with the Board of Trustees to develop new fundraising programs.
Seek additional funds through donations/grants/gifts to subsidize the operating budget.
Future Ambitions for the Elizabeth Taber Library:
To modernize and expand the library in order to accommodate the needs of our patrons of all ages, and add a parking lot with ample spaces
To make the library ADA accessible
To create an environment at the library that is a thriving community center and a one stop shop for all patron needs
---